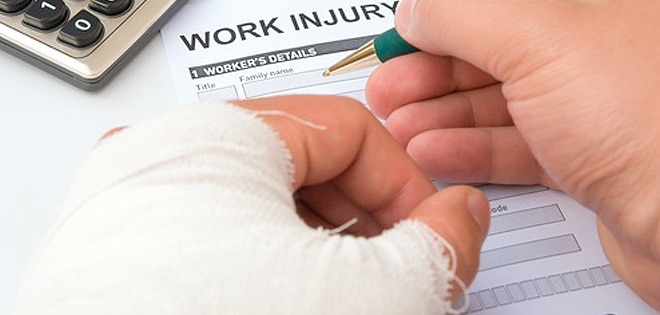 As a Delaware County worker's compensation lawyer for over 25 years, Michael T. Malarick has won large and fair settlements & benefits for his clients involved in workplace injuries and accidents.  Call Michael T. Malarick today for any work related injury and let Michael T. Malarick fight for you. Contact the Malarick law firm today for a free consultation if you were injured at work in PA. If you were injured at work in any profession, such as driving, construction, or any other injury, our workers comp lawyer in Delaware County will fight for you. Call: 610-816-6683
Why Choose The Malarick Law Firm As Your Delaware County Workers Comp Lawyer
Experience
⭐⭐⭐⭐⭐
Results
🏅🏅🏅
Coverage
✅
Over 30 years of experience.
Very High Success Rate.
All Injuries & Work Professions.
Free Initial Consultation.
Wins Large Settlements.
PA & NJ work accidents.
If you have suffered a workplace injury and seek to file a compensation claim in Pennsylvania, our experienced Delaware County workers compensation lawyer will fight for you and can guide you through the complex law of the Workers Compensation Act and help you receive a fair settlement. The purpose of the Act is to insure that an employee who is injured in the course and scope of his or her employment will receive wage loss and medical benefits without having to pursue litigation against his employer and without regard to the negligence of any party. As an experienced Delaware County, PA workers compensation lawyer, Michael T. Malarick can help you at any stage on your path through the claims process.
Michael T. Malarick is an experienced Delaware County workers compensation attorney in Pennsylvania.  The law office of Michael T. Malarick handles workers compensation cases in and around Boothwyn, Delaware County, Philadelphia, Media, Upper Chichester, Havertown, Ridley, Glen Mills, Swarthmore, Marcus Hook, Brookhaven, Garnet Valley, Springfield and more.  Call for a free workman's comp consultation today.
Once you are injured at work you must report the injury to your employer as quickly as possible within 21 days of the incident. Your employer then has 21 days to either deny your claim with a form Notice of Workers Compensation Denial; investigate your claim and issue a form Notice of Temporary Compensation Payable ( which allows an additional 90 days to accept or deny the claim); accept the claim and issue a form Notice of Compensation Payable; or accept the claim through negotiated settlements and issue a form Agreement for Compensation. During this stage, the employer must also issue a Statement of Wages which calculates the employee's wages.
If the worker's claim is denied, he or she must file a Claim Petition which will be assigned to a Workers Comp Judge for a hearing that is generally held in the county where the worker lives. At the hearing, the Judge hears evidence from both sides about the facts of the incident, the injuries suffered and the medical treatment incurred, and the wage and work history of the claimant. There may be more than one hearing in order to obtain the necessary medical evidence or hear other witnesses.
The Workers Comp Judge may schedule the matter for mediation. Also, either party may request an informal hearing or settlement conference with the Judge in an effort to reach a negotiated resolution of the matter.
Once the Workers Comp Judge closes the record ( the hearings are over and all evidence is submitted) the parties must submit their legal briefs consisting of each party's proposed Findings of Facts and Conclusions of Law to the Judge for consideration before the Judge renders a decision.
There is a three level appeal process for litigated Workers Comp claims. Either party has 20 days from the date of the Judge's decision to appeal to the Workers Comp Appeal Board. Following that appeal, either party has 30 days from the date of the Appeals Board decision to appeal to the Commonwealth Court. Following that appeal, either party has 30 days from the date of the Commonwealth Court's decision to appeal to the PA Supreme Court.
Delaware County Workers Comp Attorney – Benefits and Cases
The Pennsylvania compensation system provides for six types of benefits. First, there is Temporary Compensation Benefits.These are those benefits payable during the additional 90 day investigative period.
Second, there is Temporary Total Disability Benefits. These are awarded for total wage loss where the worker is unable to perform his or her pre-injury job. After 104 weeks, the employer can request the employee to undergo an impairment rating examination. If the examiner finds that the injured worker's impairment is 50% or more under the AMA guidelines, then the total disability benefits continue. If the examiner finds that the injured worker's impairment is under 50% of the AMA guidelines the worker's benefit convert to partial disability and will continue for maximum of 500 weeks.
Third, there are Temporary Partial Disability Benefits. These are awarded when there is a difference between the worker's pre-injury and post-injury wages and have a 500 week limit.
Fourth, there are Specific Loss Benefits. These cover amputations, permanent loss of use of a specific body part, loss of hearing or sight, or disfiguring. Here, compensation can be paid even if the worker lost no time from his or her job. Specific loss compensation covers both a healing period and a specific loss period. Disfigurement burns or surgical scars, especially on the head, neck, or face that are considered unsightly, are awarded no healing period and 0 to 275 weeks of compensation. The permanent loss of use of a hand cases are awarded a 20 week healing period and 335 weeks of compensation.
Fifth, there are Death Benefits. When a death occurs due to an injury or occupational disease, weekly compensation and a burial expense of $3,000 may be awarded. This compensation is payable to the widow, widower, or children. The surviving spouse will receive compensation for life or until remarriage. The children's compensation can continue until age 23, if the child is a full time student in an accredited educational institution.
Sixth, there are Medical Benefits. All medical expenses that are reasonable and necessary and causally related to the work injury are covered. An injured worker is required to treat with a medical provider on the employer's list of physicians for 90 days. However, the worker may still treat with his or her own physician during those first 90 days but at the worker's own expense.
Generally, an injury incurred while going to or coming from work, or on lunch hour, is not compensable.
Repetitive stress injuries, such as carpal tunnel syndrome (CTS) are compensable under the Act. Carpal tunnel syndrome is a painful and progressive condition caused by a pinched nerve in the wrist. The symptoms of this condition start gradually with a burning, tingling, itching numbness in the palm and fingers and, at first, occur at night. The medical literature indicates that contributing factors to CTS are work stress or repeated use of vibrating hand tools. The medical literature also indicates that assembly line workers are three times as likely to suffer with CTS than are data-entry clerks. A physician can determine through examinations and tests whether CTS is related to daily activities or an underlying disorder.
Occupational diseases are covered if they are caused or aggravated by employment. The Worker's Compensation Act states that the disability from an occupational disease must occur within 300 weeks from the date of the last employment where you were exposed to the hazard. However, in November, 2013, the PA Supreme Court held in Tooey v. A K Steel Corp., that employees who suffered exposure to asbestos during their employment but did not develop mesothelioma until 10 years after that employment were not barred from presenting a Workers Comp claim even though their disability began beyond the 300 week time frame.
A Delaware County workers compensation lawyer works on a contingency fee basis and is an invaluable asset when navigating the maze that is the PA Worker's compensation Act.
Delaware County Worker's Comp Lawyer Reviews:
"I was injured due to some faulty construction equipment while on a new job site. The injuries left me out of work for a long time and non-stop back pain which was tough.  Michael Malarick helped me settle a fair worker's compensation argument which helped my family until I was able to return back to work.  I would recommend Michael Malarick to anyone in need of a worker's compensation attorney in Delaware County." 5/5 – Dan.
Other Practice Areas